COPTHILL SCHOOL - AUTUMN 2019 NEWSLETTER
Caring for the animals, learning about nature and getting ready for Christmas
As our first term of the school year draws to an end, the children are eagerly awaiting Christmas and all of the special moments it brings. The role play areas have been transformed into present workshops and Christmas post offices, with presents to wrap and deliver. The children made a super sleigh from a large box, and this has provided hours of imaginative play.

In Nursery, the children have completed their 'All About Me' books and have settled well into their new routines. They have been enjoying the crisp autumnal weather with plenty of gardening opportunities, and lots of visits to the Copthill animals, including the newly-arrived goats. Eggs have been collected and counted as our youngest children help to care for our hens.

In Pre-School, the children have explored two topics: 'Family Fortunes' and 'Come and Join the Celebration'. At the start of the term, the children talked about themselves, their families and their homes. More recently, both classes have been thinking about different types of celebrations. There was much excitement when Teddy celebrated his birthday and the children behaved beautifully when we welcomed a visitor into the classroom to discuss Remembrance. The last few weeks have focused largely on our Christmas celebrations with both the Nursery and Pre-School children making lovely festive items to bring home to you, while also learning why we celebrate Christmas. Both classes created magical memories with their Nativity performances.

At Forest School, the children have learned their boundaries and fire square safety routines. They have discovered sleeping dragon tails, collected blackberries and have been using the bow saw to make wooden Christmas decorations. A wonderful morning was spent celebrating Harvest in the Wood.

Next term, we will introduce the Pre-School children to the Read Write Inc. programme which has proved to be very effective in promoting reading and writing in the Reception classes. We will be inviting parents in to join us at our Mother's Day assembly and we look forward to hosting another parent workshop. January will also see us launching our Early Years library, where all children will be invited to bring a book home to share with you each week. Parents will also be able to access a range of support books and information.

As we move into a new term we will continue to strive to provide a happy, safe and stimulating learning environment for all of our Nursery and Pre-School children, helping them all to achieve and succeed.

Finally, I would like to take this opportunity to wish all of our Nursery and Pre-School staff, parents and children a restful and peaceful Christmas and a very happy New Year.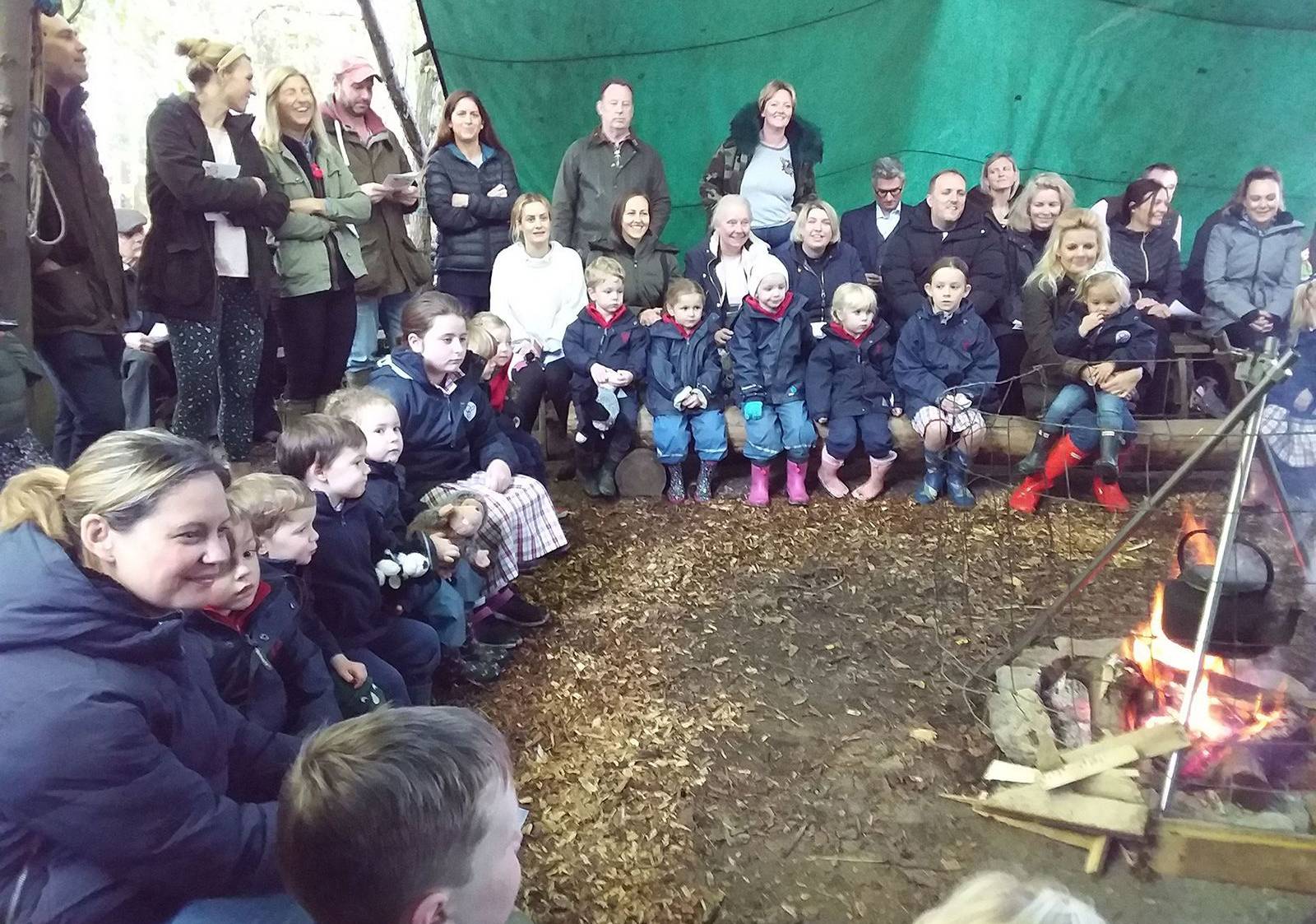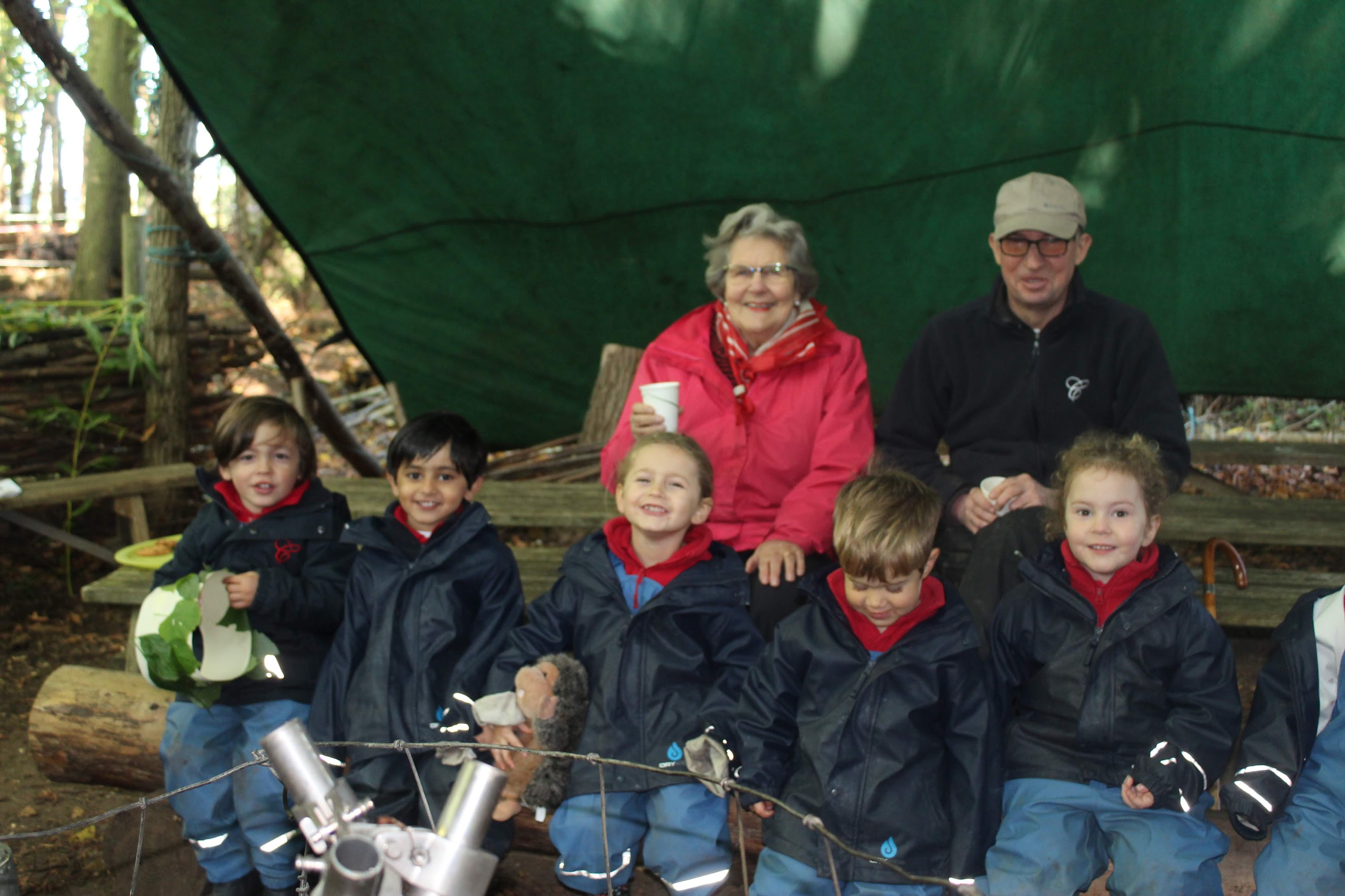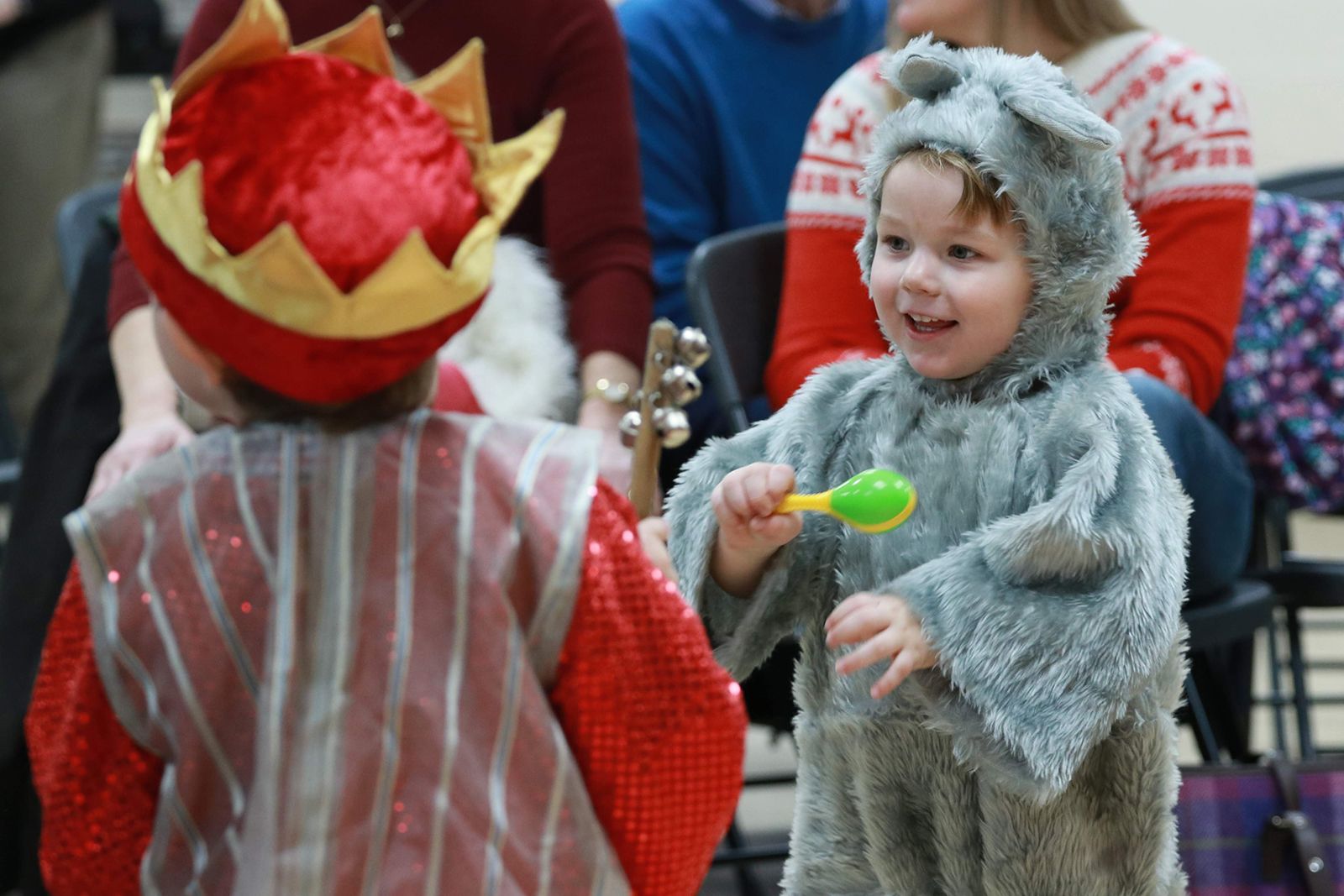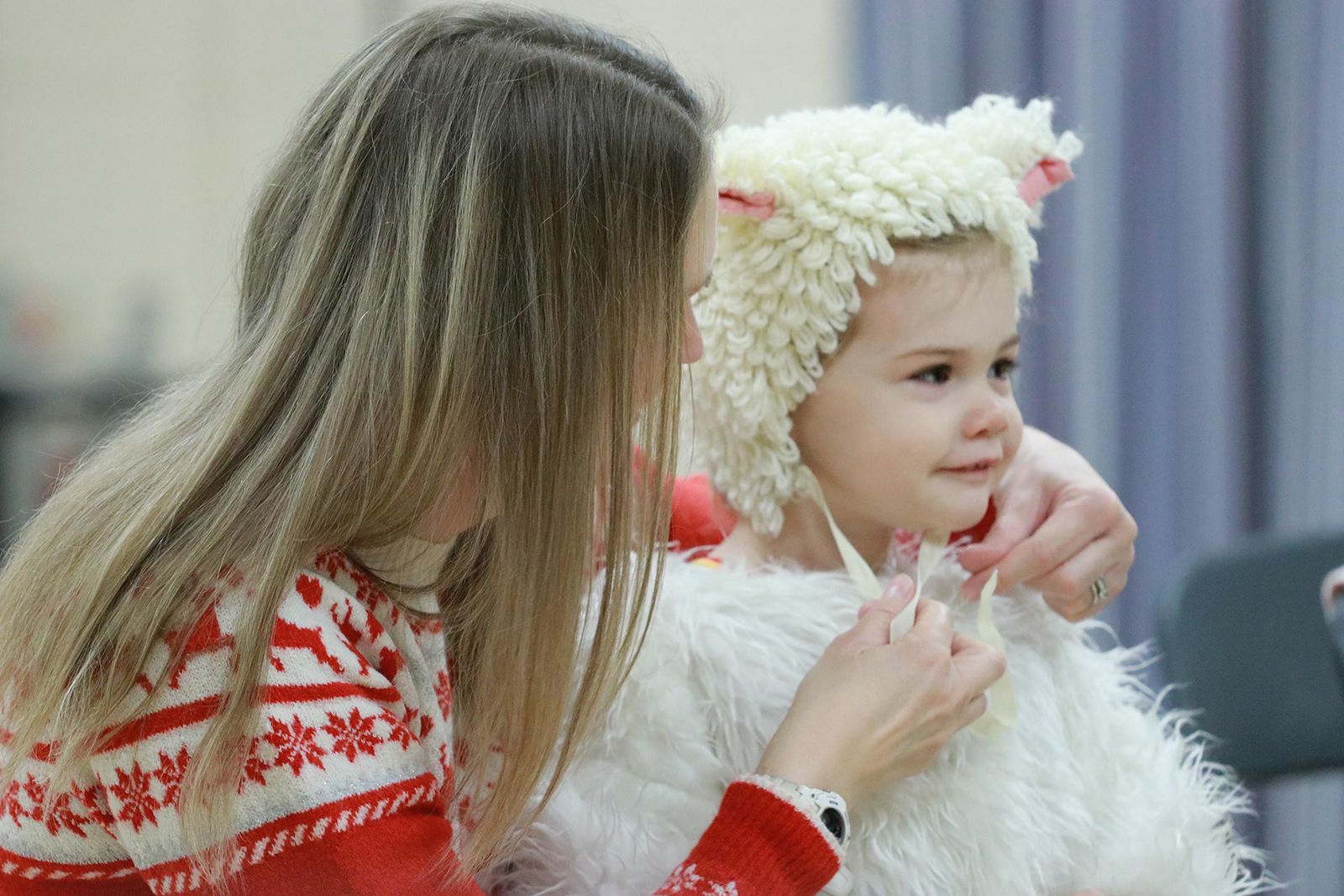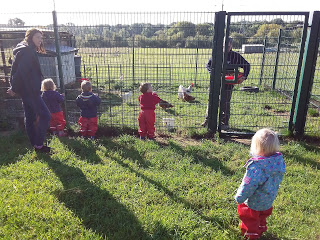 October
A TRIP TO THE FOREST SCHOOL HUT
We enjoyed our first trip to the hut today. On the way we jumped in puddles and met Mr Campbell where we helped to feed the chickens.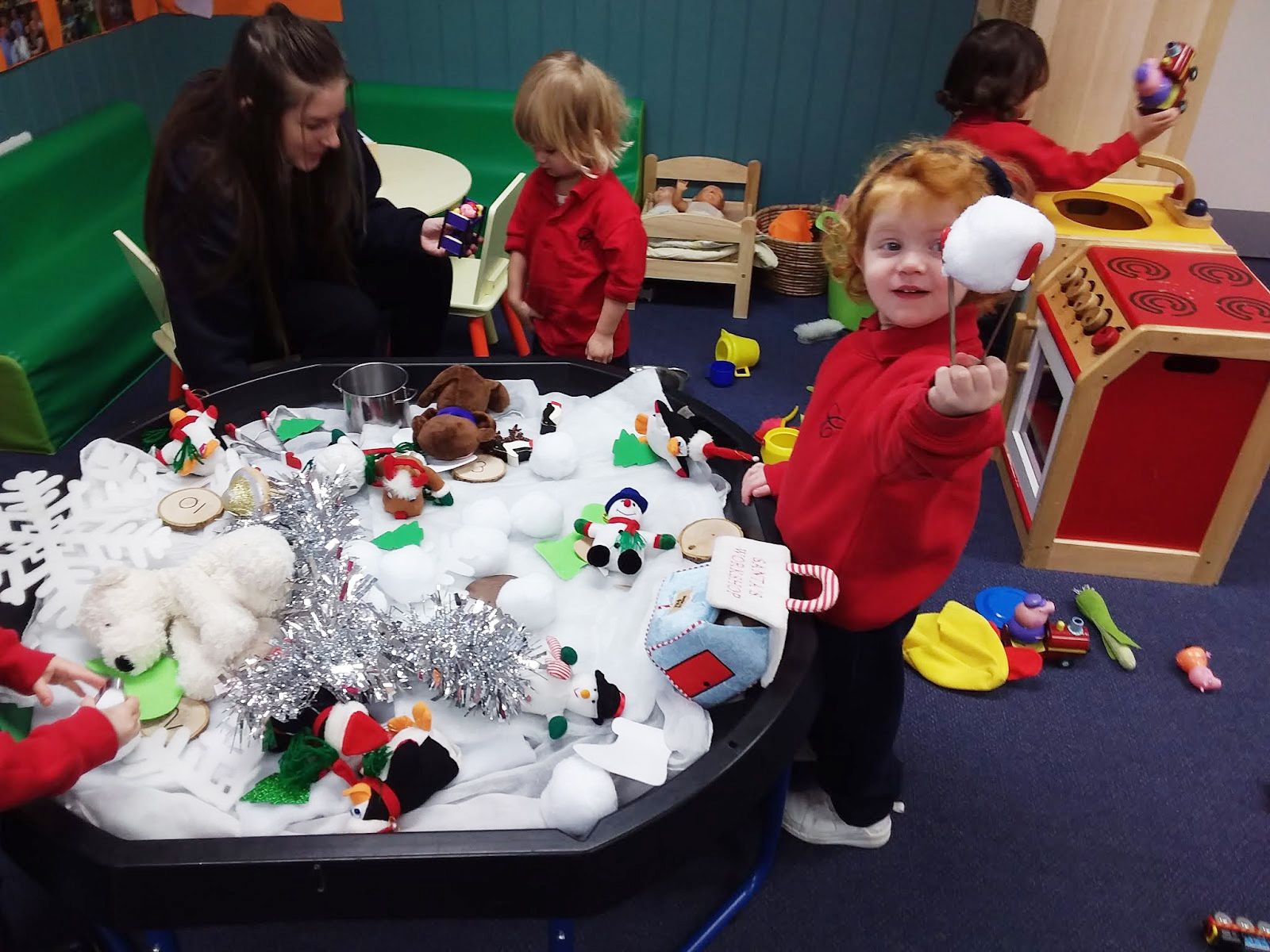 November
CHRISTMAS IS COMING!
We've had a lovely week in Nursery. The festivities have officially commenced, we were caught by Mr Teesdale on Tuesday while we were doing the conga around the classroom! We are looking forward to our Interactive Nativity next Friday and hope to have a packed hall! Please join us for some festive fun! Refreshments will be available before the event.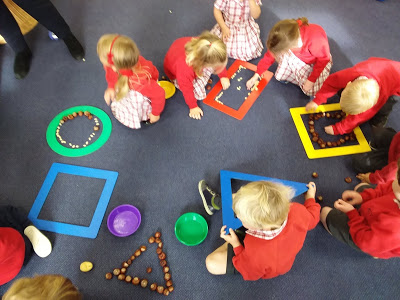 The Pre School children have been very busy creating shapes with conkers and pumpkin seeds. They carefully placed the autumnal objects around the outside and inside of large shapes placed on the floor. There was much excitement when the children lifted up the shape to see the conker and seed outlines left behind. The children were encouraged to work together and share the resources. We talked about the different features of the shapes and counted the number of corners and edges.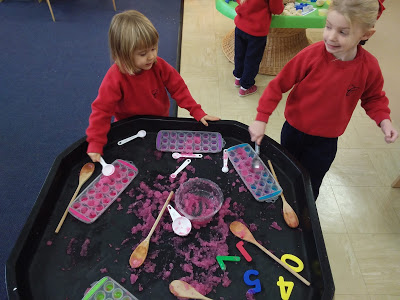 November
JELLY AND CUPCAKES
This week the children have been enjoying some messy play opportunities as we continue with our celebration topic. The play tray is filled with play jelly and numbers for the children to explore. Another tray has cupcake cases and numbered mats, along with lots of modelling tools for the children to make and create party cakes. On the touch screen the children can draw their favourite ice creams and party food!